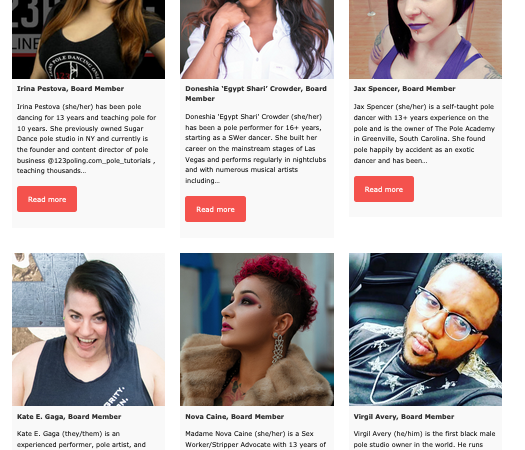 IPIA Announces Class of 2020 Board Members
We are pleased to announce the 2020-2022 board members! This first board is appointed, and all future boards will be voted on by IPIA membership and will be comprised of IPIA members.
The election for the 2021 class of board members will be in November 2021 conducted electronically. More information on how to nominate yourself or another IPIA member for board service will be available in the summer of 2021.
"The full board is 12 members, 13 including me as a voting member," the Executive Director, Colleen Jolly said, "I wanted to start small with half the board to orient people to this new structure and organization. I specifically looked for people that represent the five different demographics of our pole business who also represented different backgrounds, genders and races. Representation matters and having a diverse board means we can more accurately reflect the IPIA membership."
The board of the IPIA functions as a governance board. This means, they are not involved in the day-to-day running of the business/administrative part of the IPIA. This does mean that they provide their subject matter expertise on important strategic initiatives. Right now, the board is working on several strategic initiatives that will become recommendations to industry that can be implemented at the individual pole business level to continue to create a sustainable and inclusive pole industry. The board meets quarterly, via Zoom.