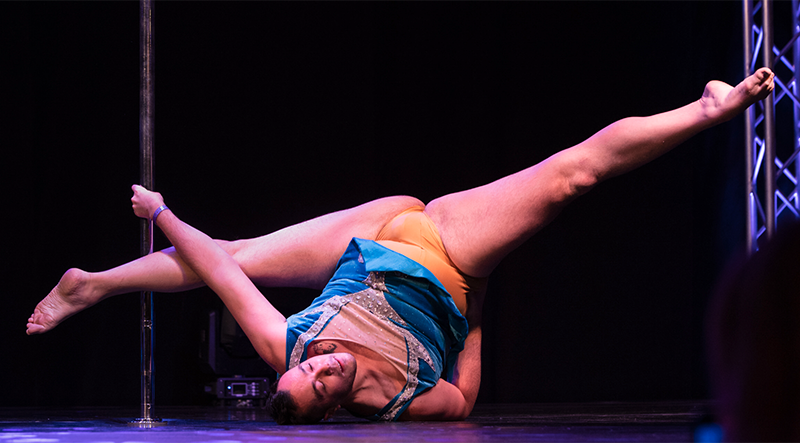 How to organize a pole dance showcase or competition
Organizing a pole dance showcase could be an independent business idea or something that you do as part of owning or managing a studio.
Here are some things to consider when planning your pole dance showcase or competition:
Venue
First, you'll need somewhere to hold your showcase or competition. If you are having a large event, read this post. Otherwise, most showcases might be held in a small venue like a black box theatre, in a studio space, or maybe even outside.
Make sure to check ceiling heights and how you will get equipment—especially the poles or any truss system—in and out of the space. If you are in a public space like a park, check to see if you need a permit to perform or play music.
Equipment
To have a pole dance showcase or competition, you'll also need poles! You may have stage poles which are easier to set up (and less expensive) than attaching poles to a truss system BUT some performers may not like performing on them as they may limit floor work and can be wobblier than attached poles.
Make sure you understand how to get the equipment in the space and out of the space and see if you need to rent equipment or if you'll buy it (if you'll buy it, know where you're going to store it and how you'll transport it too!). Know in advance if there are stairs, a loading dock, or other obstacles.
Performers or Competitors
You'll also need performers!
Some small showcases might be comprised of volunteers like students from your studio. Other showcases might pay performers. Competitions typically charge performers to compete. Decide how you'll want to compensate people for performing (or not) and then make that clear before people sign up. If you are paying people to perform, you probably need a contract. If you intend to use your performers' or competitors' images or video in future marketing, make sure they sign a model release.
Staff During the Showcase or Competition
Before the actual event and depending on the size of your showcase, you might need to wear a few different hats like marketing, sales, producer, etc. During the event you'll definitely need these roles, some of these roles might be the same person or might be lots of different people.
MC: to announce the performers and run the show from the front of the house (audience facing)
Stage Manager: coordinate the performers and run the show from the back of the house (performer/competitor facing)
Pole Cleaners: clean the pole between performers, help set and remove props and clothing.
Ticket Takers/Sellers: if you sell tickets to your showcase, how you are checking people in and confirming you have enough space for your audience (even if it's free).
Refreshments: if you offer or sell refreshments like snacks or drinks.
Set up/Take down: if you own the equipment, you'll likely need to coordinate this yourself. If you are renting equipment, that company might do it for you.
Safety: at a minimum you should have a trained medic/emergency support person who is trained in CPR and First Aid. If you are in a venue, know where the venue AED is. If you are in your own studio, make sure you have your own AED. Read more about safety at events here.
Photographer/Videographer: capture the moment on stage which can be sold or given to performers or used in your own marketing for future events.
AV/Music Tech: controls all the sound and lighting during the show.
Rules
If you are running a competition, make sure you have created clear and detailed rules and have sent them out to your competitors well in advance of the event.
If you are running a showcase, you probably won't have very detailed rules, but you'll still likely have some rules which might include costume or prop rules that may be guided by the venue such as no fire or smoke producing props.
You'll also have to have some mechanism for collecting music and other information for the MC to announce like a bio or social media handle. Google Forms is an easy and inexpensive way to collect that information and is easier to track then receiving information via email.
Large showcases and competitions may also be subject to music licensing. Read more about that here.
Make sure to include deadlines on collecting information from your performers or competitors! (And then enforce those deadlines).
Music and Lighting
If your venue doesn't have built in speakers, make sure you understand how you will play music. This may require you to bring more equipment. Also, understand the lighting set up which similarly might require you to bring your own lighting or have very minimal lighting.
Audience
It's not a show without an audience! Advertise your showcase in as many places as is relevant but especially on your social media, website, and in your newsletter to collect your audience. If your event is public, consider local outlets like newspapers, notice boards, or radio to get the word out.
Showcases and competitions can be a great way to get more people involved in pole dancing. They can also be a great way to generate revenue for your business and give your students an opportunity to share what they've learned with their friends and family.
What else would you add to this list? Let us know!