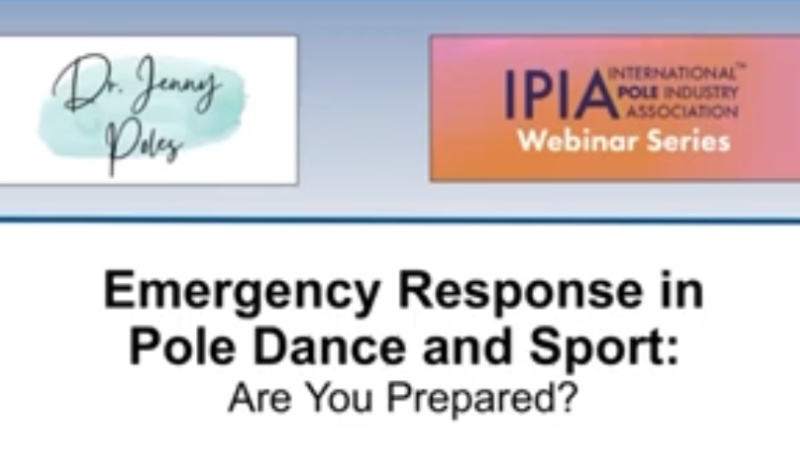 IPIA Webinar: Emergency Response in Pole Dance and Sport: Are You Prepared? with Dr Jenny Poles
This workshop was part of the IPIA Webinar held on June 23, 2023. Typically webinar recordings are free for IPIA members only however this is a very important topic that we want all pole businesses to have access to.

Emergency Response in Pole Dance and Sport: Are You Prepared? with Dr Jenny Poles
In the dynamic world of pole dance and sport, ensuring safety and preparedness for emergencies is crucial. Join Dr. Jenny, an athletic trainer and pole dancer with a PhD, as she delves into the importance of emergency response in pole studios and pole dance events. This engaging and informative webinar will equip pole dancers, instructors, studio owners, and event organizers with essential knowledge and practical strategies to effectively manage emergent situations related to pole dance.
At the conclusion of this webinar, attendees will be able to:
Identify the safety must-haves for pole studios and pole events.
Develop and implement emergency action plans tailored to pole studios and pole events.
Organize regular CPR training for pole instructors and staff.
Obtain and maintain AEDs and other necessary emergency equipment.
Communicate and collaborate with local emergency services and medical professionals for medical coverage and assistance.
Don't miss this opportunity to enhance your safety preparedness. Register now and take the first step towards creating a safer environment for our pole dancers and athletes!
https://www.sca-aware.org/about-sudden-cardiac-arrest/cpr-and-aed-laws
Bio
Dr. Jenny Hunnicutt is a licensed athletic trainer with a PhD in Health and Rehabilitation Sciences. She has extensive experience working with athletes across various disciplines, ranging from Olympians and high school football players to professional figure skaters and now, pole dancers! Currently, she serves on the National Network of Healthcare Providers for US Figure Skating.
With over a decade of pole dancing experience, Dr. Jenny has taken on numerous roles within the industry, including founding and managing a pole program, as well as instructing and performing all the way from Florida to Las Vegas.
Her online platform, "Dr. Jenny Poles," is dedicated to educating and providing resources to the pole community, focusing on the health and safety of pole dancers worldwide.
To learn more about emergency preparedness and response in pole dance, connect with Dr. Jenny online at:
Website: https://drjennypoles.com
Instagram: @drjennypoles