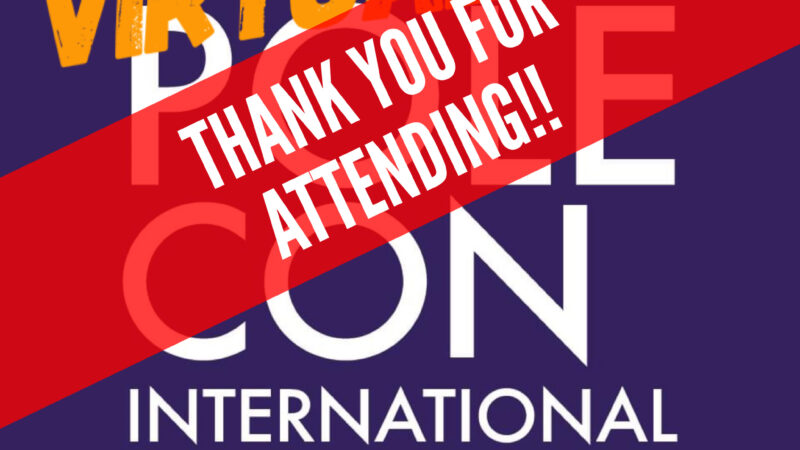 Virtual PoleCon 2022 Recap
We held the third annual Virtual PoleCon just this past Saturday October 22, 2022, to a small but enthusiastic, virtual crowd!
This event was born during the pandemic and has changed in all three of its incarnations to reflect the needs of the moment. This year, we shared our four popular panels typically held during the live PoleCon event (Stripper/Sex Worker, Plus Size, Queer Pole, Race and Cultural Appropriations in Pole) and added our Pole Business panel for a full day of information sharing.
While all the panels discussed different and challenging issues within our industry, some overarching themes did emerge.
These themes included:
Be supportive – treat all people as humans deserving of your respect regardless of the details of their identities.
Spending money on businesses (or individuals providing a service) is a welcome form of support.
Have grace and compassion in your dealing with other humans and with yourself.
Not everything or everyone is for everybody all the time (or at all).
Finding your community within the greater pole community is important and can be enriching and valuable. Conversely, if you don't immediately find that community, you may decide to create it yourself or seek it out in new ways/new locations.
There is no one size fits all approach to anything. What works for one person may not work for someone else. Finding the things that give you peace and the things that ignite your personal fire can be hard and is also completely unique to you.
Pole is the intersection of a lot of complicated personal and societal issues. Most people that start, acquire or work in pole-based businesses do it from a place of passion first.
As we move into a (mostly) post-COVID world, the needs of our industry and the people in it will continue to change. The IPIA will continue to provide resources to primarily support the educational needs of those working in the pole industry. We will additionally continue to provide resources to consumers so that they may understand and appreciate the unique challenge and intersections present in pole.
We are all working towards a more supportive, inclusive, and sustainable pole industry in our own ways for our smaller and broader communities.
Interested in listening to the panels? Recordings are available. Email us for details.